==
Description==
Sophie is one of Zoe's friends. So far she's been mentioned in three strips (shown below.)
All we know so far about Sophie is that she goes to Zoe's school, when she received socks that she didn't know the owner of she gave them to Tessa, and Maya hurt her feelings at school one day.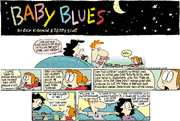 Ad blocker interference detected!
Wikia is a free-to-use site that makes money from advertising. We have a modified experience for viewers using ad blockers

Wikia is not accessible if you've made further modifications. Remove the custom ad blocker rule(s) and the page will load as expected.